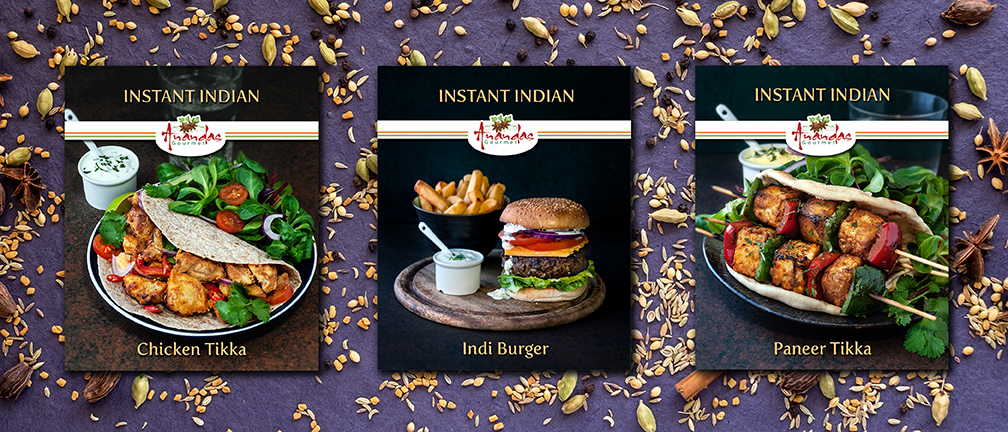 Buy my

Meal Kits

to serve up an Indian curry for 4 in less than 45 minutes: 
A pre-packed box of fresh ingredients and perfectly proportioned spices
With easy instructions for preparing a curry in your own kitchen!
Kits include fragrant Basmati rice. All you'll need to buy is the meat or fish.
Delivered to your doorstep!
Why not just buy the

Spice Kits

:
Pre-mixed & perfectly proportioned spice sachets for authentic flavours of India
Easy to follow recipe inside the pack and a handy shopping list to grab your ingredients
Choose from 11 authentic Indian curries,  with all portions serving 4 people and ready in under 45 minutes
Our Spice Packs are delivered nationwide!
"From my kitchen to yours"

Authentic Indian cuisine delivered to your door
The Meal Kits use authentic Indian recipes developed from generations of my family's cooking. Presented in a beautiful box, you'll receive fresh, locally sourced ingredients, Indian spice packs, and an easy-to-follow recipe card. Anandas Gourmet remove the stress of choosing, measuring and weighing ingredients for your curry. These no-fuss kits provide the perfect solution for creating the perfect curry for the whole family.

The perfect curry in just 45 minutes
Anandas Gourmet Meal Kits and Spice Packs are an easy way for beginners to explore the vast and diverse flavours of India; a fresh new concept for bringing Britain's favourite cuisine to the family table. Everybody, from the novice cook, the adventurous foodie or busy professional can prepare an Indian curry to feed 3 – 4 people with minimum fuss and no waste.

Put authentic curry on your table
Anandas Gourmet provides a wide and diverse range of curries that the whole family will love. Traditional favourites such as the Butter Chicken Curry are Indian classics, and we allow you to discover new, exciting, mouth-watering dishes like the Pepper Chicken Curry. We also have a wide variety of vegetarian options, including the delectable Tadka Dal.  With recipes ready within 45 minutes using easy to follow instructions and no specialist equipment, you can enjoy a stress free taste of India.
Authentic Indian Meal Kits & Spice Kits
Anandas Gourmet provide both Indian Meal Kits and Spice Kits, with both of these boasting a wide and varied selection of authentic curry dishes. The Meal Kits are packed full of fresh ingredients that can help you prepare a tasty curry for your whole family, and our Spice Kits are the perfect addition to any meal to add a flavoursome kick of spice.